Posted on
April 4th, 2011
by Editor
I witness steady growth of fashion apparel companies among our prospective clients who turn to us seeking help in registering trademark in Russia – just recently they were a knitwear designer from NY and absolutely fabulous British based clothing company (which made me regret I'm way to bulky nowadays to wear their suits – my only bet would be a t-shirt…sigh…)
In the light of the above, an article in The Economist was fun to read.
As Carl Oppedahl of e-trademarks-l nicely summarized it:
"DESIGNERS of fancy apparel would like their customers to believe that wearing their creations lends an air of wealth, sophistication and high status. And it does—but not, perhaps, for the reason those designers might like to believe, namely their inherent creative genius. A new piece of research confirms what many, not least in the marketing departments of fashion houses, will long have suspected: that it is not the design itself that counts, but the label."
I couldn't say it better in English.
BTW, guys at The Economist produce absolutely fascinating wall calendars – check them out! I got mine in the post couple of weeks ago and it keeps me amused ever since – so much fun to study all those tiny details, it's always sets me in positive mood 🙂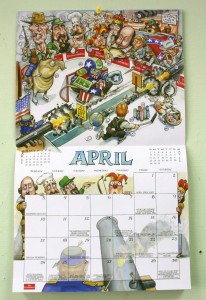 Related posts:
Filed under: facts of life, registration of trade marks in Russia